How to Sharpen Lathe Tools
Knowing how to sharpen lathe tools is probably the single most important thing any pen turning or woodturning hobbyist should obsess over.
Scarily sharp tools will result in less broken pens, fewer cracks, and overall pen perfection. Regardless of whether you're pen turning or turning anything else, the process for sharpening woodturning tools remains the same. This is everything you'll need: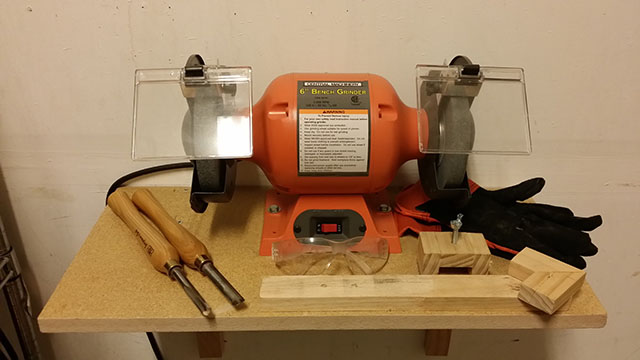 -Your lathe tools
-Safety glasses
-A sharpening jig (explained below)
-Some thick gloves
-A bench grinder
The Sharpening Jig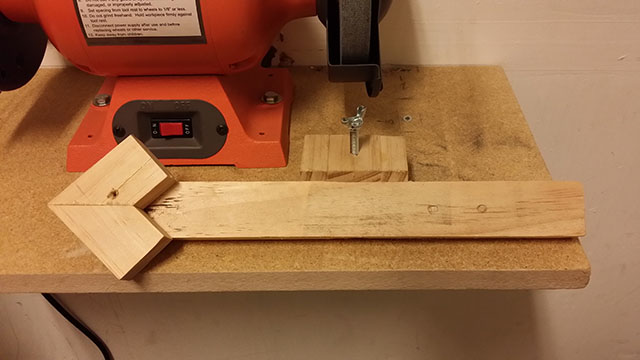 It doesn't need to be fancy or pretty, it just needs to be functional. This is extraordinarily important for sharpening your tools properly – DO NOT SKIMP HERE. I didn't use one for years and always had very, very disappointing results. The day I started using one is the day disappointing results went away. I've taken more detailed pictures of this and explained it a bit better at the end of this post.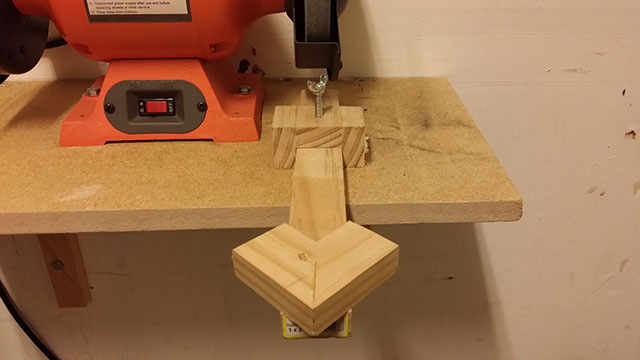 When it's all plugged together and ready to rock, that's what it looks like.
Let's Get to Sharpening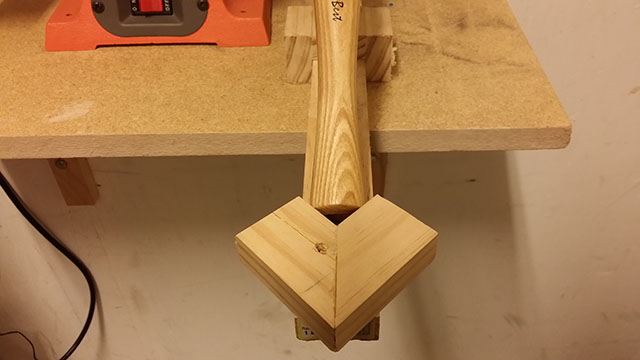 Today we're focusing on sharpening the gouge because it's the trickier of the two most common woodturning tools.
Start by securing the butt of your lathe tool against the base of your jig. It should be very secure with little "give" or wiggle room, if any at all.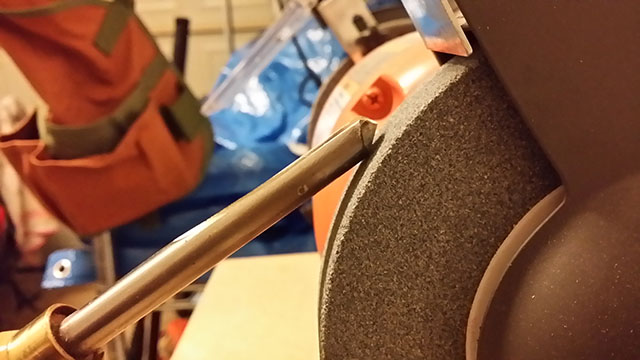 The most important thing to focus on when sharpening woodturning tools is the angle where the tip meets the grindstone. Lining up the angle is done before you ever turn the grinder on. The above picture is an example of the WRONG  way to sharpen your tools.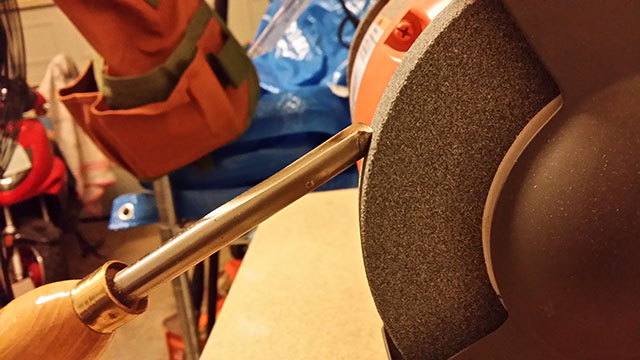 There should be absolutely NO GAPS here – your lathe tool should be 100% flush against the grindstone to preserve that perfect manufacturer's carving angle.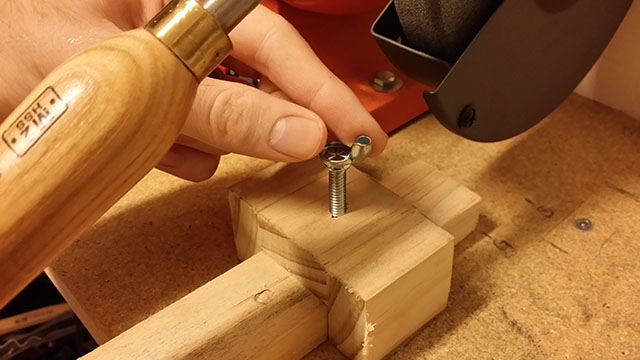 Once that's done, secure your jig in place so that you're 100% certain there will be no movement in the jig while sharpening your lathe tools.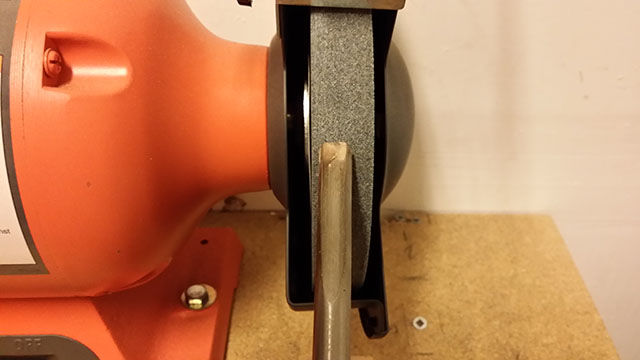 Make sure your safety goggles are on, turn the grinder on, and start with the tip's center on the bench grinder. You don't want to put too much pressure here, but you do want to make sure you're holding the lathe tool firmly against the grindstone so that it's not bouncing or moving around.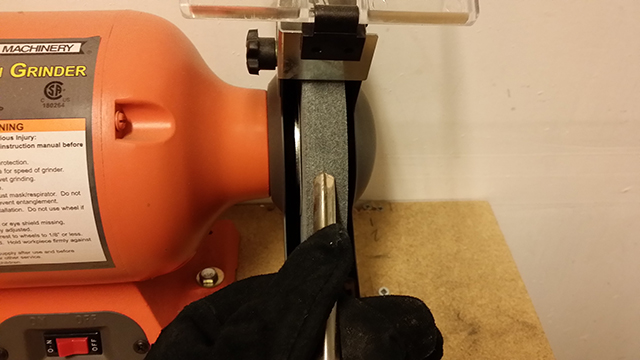 Note that your gloves should be on by this stage too. That tool is going to get HOT – QUICKLY. The gloves will allow you to keep going. Also note where I'm holding the tool with my non-dominant hand (your dominant hand is used to support the wooden handle at the base of the jig).
While the grinder is on and the tool is being securely held against the grindstone, slowly turn the tip of the tool to the right (by rotating the wood handle with your dominant hand).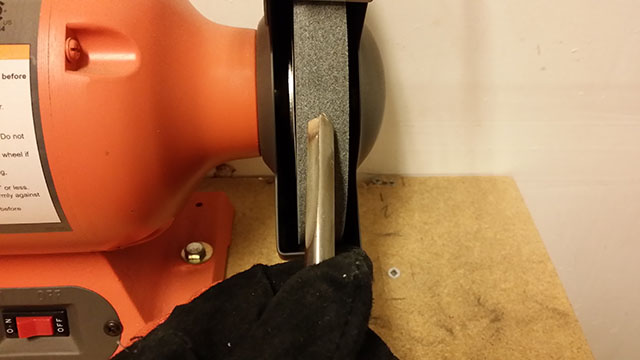 Then, with the tip of the tool still securely held against the grindstone, rotate it all of the way back, past the center, to the left. This is all done within 10-15 seconds. It can be somewhat intimidating the first few times you do it (expect lots of vibration), but you'll get used to it in time. It will take some practice, but it's worth getting very, very good at if you're an avid wood turner.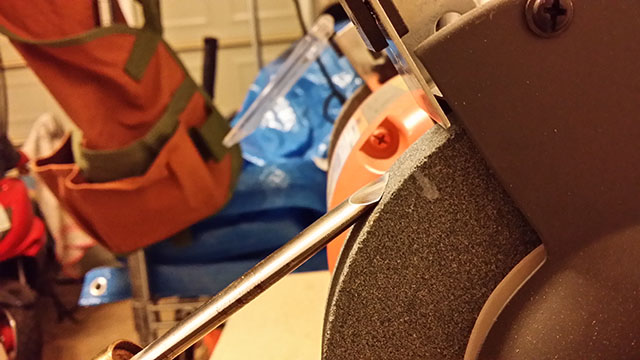 The other most commonly used lathe tool in woodturning, the skew, is sharpened the exact same way. You just don't have to worry about rotating the tool like you need to with a gouge. Just line up the angle, turn on the grinder, securely set the tip to the grindstone for a couple of seconds, flip the skew, repeat for the other side. and you're done.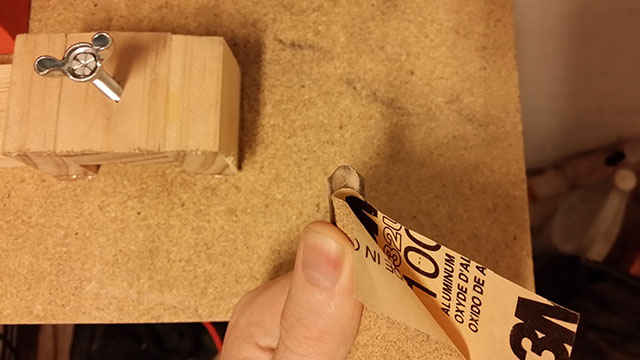 Finally, after gouges come off of the grinder they'll have a little burr on the inside. Once the lathe tool is cool to the touch, take some fine grit sandpaper, match it to the groove of the gouge, and sand outward – away from your body from the inside of the groove outward – until the burr can no longer be felt.
It's As Easy As That!
That's how to sharpen lathe tools properly. No need for a whetstone or anything fancy. Following all of the above steps will make your tools scary sharp, so you shouldn't need to put any pressure on them at all while you're turning. These sharp tools will do all of the work for you. Once you catch yourself putting too much pressure while turning, it's time to take your tools back to the grinder and sharpen them again!
Leave a Comment If You Found This Helpful!
It's nice to know that I'm not doing all of this for nothing, so if you found this helpful or you have pointers for sharpening lathe tools, please comment on this post below! I'd love to hear from you.
Oh! And just like I promised, you'll find more detailed pictures on my homemade grinding jig below.
Elaboration on the Sharpening Jig
If you don't feel up to building one yourself, you can always spend roughly $100 to buy a manufactured one like this. I didn't want to, so I went ahead and bought some pine 1″ x 2″, marked a couple of 45° angles, and glued it all together. I've taken some detailed shots so that you can do the same if you'd rather save a few bucks. It shouldn't take more than an hour or two to throw one together that you can use for years to come.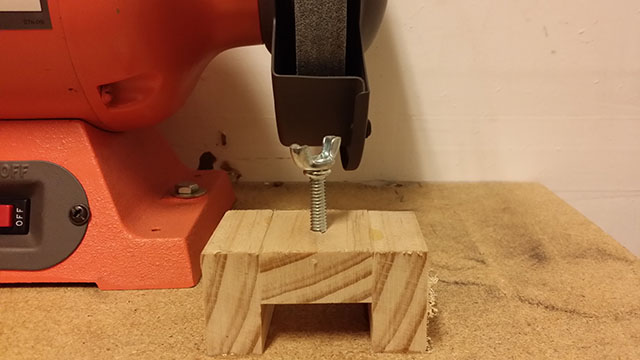 This is the bracket that I slide the base/arm of my jig into, which you can see lines up pretty well with the grinding wheel on my bench grinder. Just three pieces of 1″ x 2″ glued together, glued down onto the wall-mounted table that my bench grinder is bolted to, and a butterfly screw on top (not pictured: on the underside of the bracket, in that top piece of 1″ x 2″, there is a nut glued in to ensure that the butterfly screw bolts down onto the arm of the jig firmly).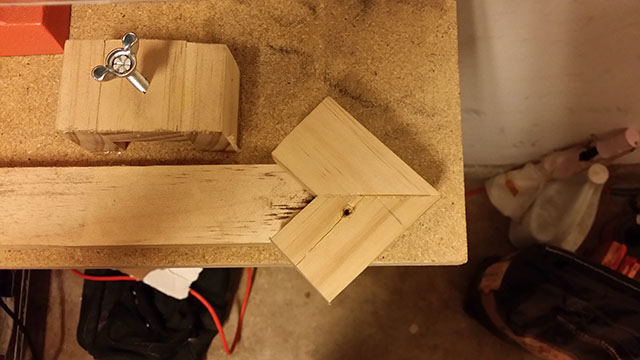 This is the base of my jig. You can see that I just took a couple of pieces of the 1″ x 2″, cut them at 45°, and glued them together. Then I glued them onto the back of a long piece of 1″ x 2″.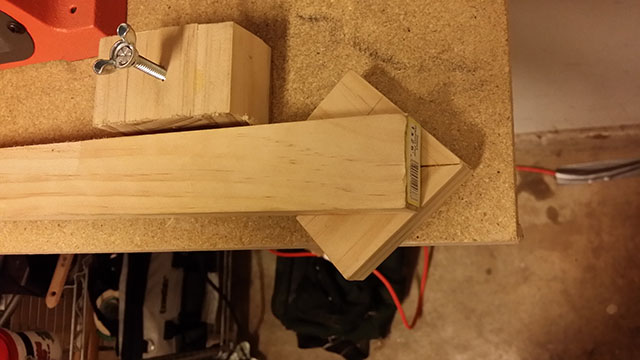 Here's one final shot of the arm/base of the jig from the bottom, just so that you can see that there's not any fancy magic holding it all together. It's an extremely basic, yet very functional tool that is essential for sharpening lathe tools. I hope that you find these more detailed pictures helpful! Don't hesitate to comment with any questions you have below.