Dedicated Pen Blank Drilling Chuck Review
So you're considering a dedicated pen blank drilling chuck but still aren't certain if it's right for you or if it's worth the money. I used a drill press for many years before the pen blank drilling chuck came out, but once I got my hands on this chuck I couldn't imagine myself going back. I'll do my best to highlight the pros and cons in this dedicated pen blank drilling chuck review.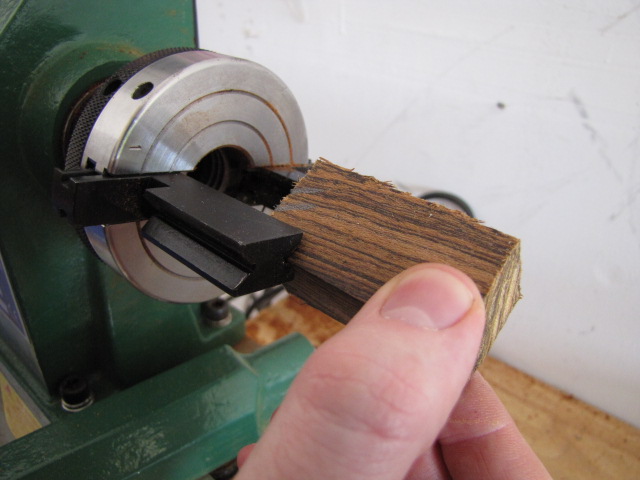 Advantage #1: Perfectly Centered, Straight Holes Every Time
I recognize that this is achievable with the proper accessories and clamps for a drill press, but it's pretty impossible to screw up with a dedicated pen blank drilling chuck. You screw the chuck onto your headstock, drop the drill chuck in the tailstock, put your blank into the chuck and, just… turn on the machine. It doesn't get much simpler than that. There's not really anything to line up or double-check prior to drilling. You just setup and go – very thoughtless and, again, difficult to screw up.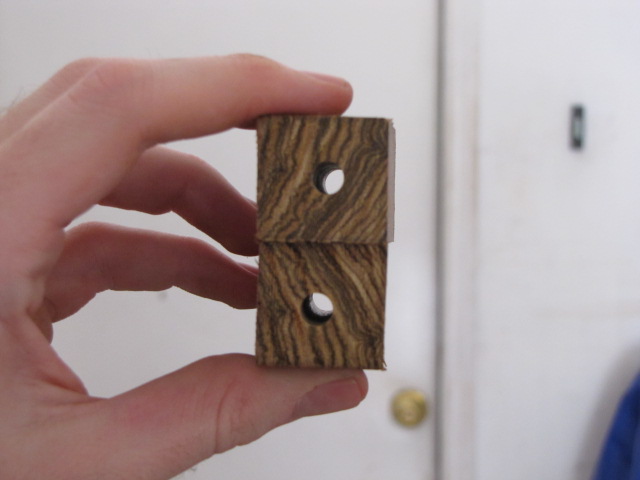 Advantage #2: Less Expensive
If you want a perfectly straight, perfectly centered hole every time from a drill press you'll need a high quality press and all of the accessories/clamps necessary to make that happen. This will easily run a minimum of $300 even if you go for a lower quality, less expensive drill press. Buying the dedicated pen blank drilling chuck and a drill chuck for your tailstock will keep you comfortably under $150, and the precision/ease of use can't be overstated here. Less than half the price and less of a hassle too.
Advantage #3: Space Saver
I don't like to take up any more of my garage than necessary for my turning. I need it for storage, parking, etc… Drill presses are big and bulky, particularly compared to a couple of lathe accessories that tuck away in your shop bench drawers. When I was a kid, my mom would constantly bang her car door on the table of my drill press. Even if for that reason alone, she would be a huge fan of the dedicated pen blank drilling chuck too!
Disadvantage #1: It Requires More Time
This is the #1 thing I miss about using a drill press for drilling my pen blanks, but the pros here definitely outweigh the cons in my opinion. The dedicated pen blank drilling chuck is absolutely slower, but perfectly centered, perfectly straight holes every time easily make up for the extra time it takes to drill.
Disadvantage #2: Usually Requires Re-Setting Mid-Drill
Depending on the depth your tailstock is capable of extending to, you'll probably have to turn off your lathe and scoot the tailstock back up to finish any hole you're drilling. If it sounds like this might take away from the precision – it doesn't. It becomes second nature after you do it a few times. When your tailstock won't extend any further, turn off the lathe, retract the tailstock using the handwheel, lock it back into place, turn the lathe back on, and finish drilling. The whole process I just described doesn't take more than 15-20 seconds after you've gotten used to it.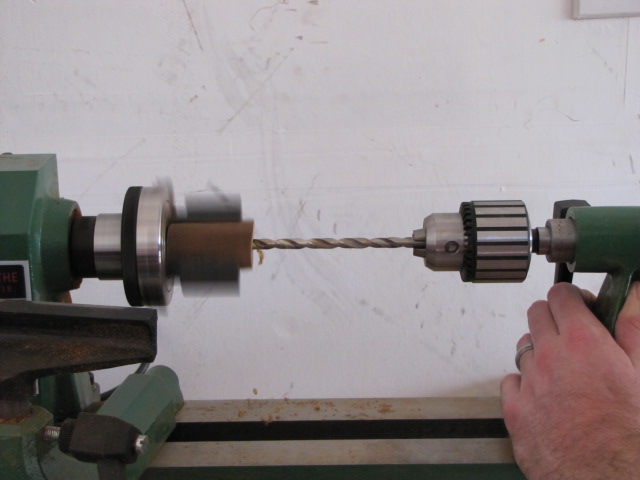 Disadvantage #3: Some Like It Hot
A drill press makes backing your drill bit out much easier and quicker, which allows you to relieve your pen blanks of heat more often as you drill. Backing out to relieve heat and shavings is more time consuming with a dedicated pen blank drilling chuck, so be careful not to let heat build up too much if you get one. You can burn the wood or melt the acrylic your working with, which increases the room for error if you're not careful. If you keep an eye on it, this shouldn't be much of a problem to speak of.
The Final Verdict: Would I Recommend It to Anyone?
Without a doubt. Hands down this is one of the best additions I've made to my wood shop over the years. It requires more time and attention to heat buildup, but I can't state how nice it is to produce an almost brainless perfectly centered, perfectly straight hole every single time I make a pen. When I was younger I ruined countless blanks with crooked holes because I didn't have the right clamps and accessories for my drill press. A dedicated pen blank drilling chuck is cheaper, smaller, requires less attention to detail overall, and is extraordinarily precise. I can imagine switching back, and I would enthusiastically recommend any pen turner get one regardless of if he/she were family or a stranger I met at a trade show. It really is that great.
Let Me Know You Stopped By!
I hope you found my dedicated pen blank drilling chuck review to be helpful! If you have any questions or if you read this post and found it helpful, please leave a comment below!