Pen Turning Tutorial
So here we are, getting ready to set out on the long "pen turning" road ahead. Depending on the tools you have at your disposal and how serious you are about turning a really high quality pen, the traditional slimline pen kit (typically $3.00-$5.00 whether you buy it from Woodcraft, Wood Turners Catalog, or Penn State Industries) will probably take anywhere from 45 minutes to three hours of hands-on labor to turn.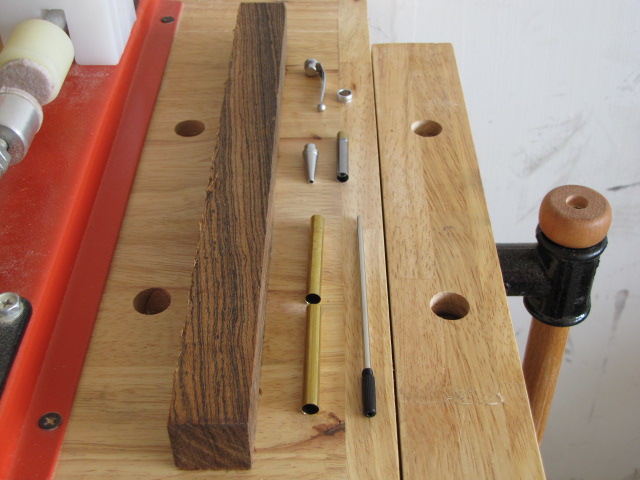 This tutorial has five sections which will walk you through every fine detail using text and highly detailed pictures. The sections are:
What You'll Get Out of this Pen Turning Tutorial
If you're putting on a CA finish like I will be toward the end of this walk-through, there will be an extra few hours where the pen sits on the lathe while the finish cures. Any way around it, you'll be taking a raw set of parts and a chunk of wood like the ones above and turning them into a beautiful, handmade wood pen like this: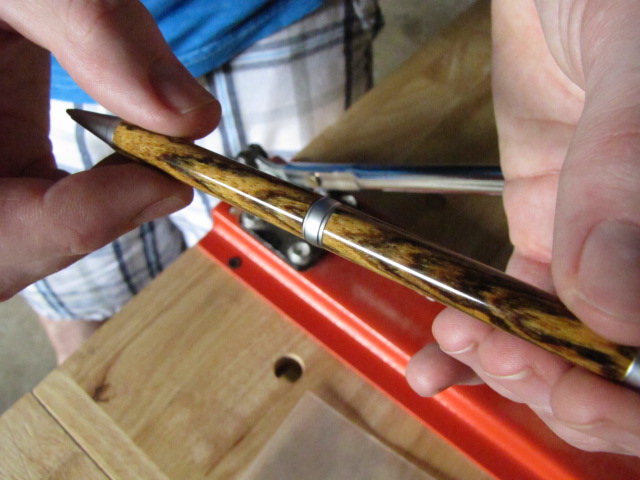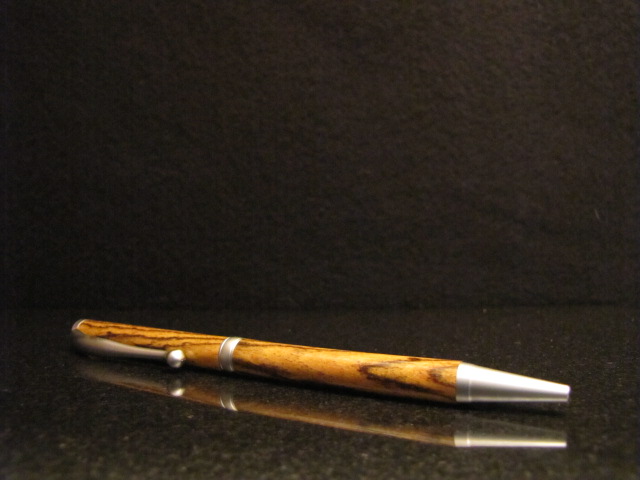 In this tutorial I'm going to give you step-by-step instructions to turn a pen about as flawlessly as one can be turned. There are A LOT of things that can go wrong when trying to carve one of these little guys out, but when I was making this pen my wife helped me by taking over 400 pictures to make sure every step was documented as clearly as possible for you. About half of those were duplicates just in case there was something wrong with the first snapshot, so this tutorial will have around 150-200 pictures total.
Not All of These Steps Are Necessary for Turning a Pen
As we go through, I'll do my best to point out the steps that some might consider "excessive" so that you can take them out if you'd like. I'll also do my best to explain the reason for each of those steps, and the possible consequences of skipping them if you choose to cut them out.
So here we are. You're on this page to learn one of two things: 1) How to turn a pen or 2) How to turn better pens. I've put a little over 80 hours of labor into this tutorial to help you do exactly that. I'm sure I'm nowhere near the best pen turner in the world, so if you have advice as you go through please feel free to comment on the page so I can improve.
And if you find anything in this tutorial helpful, I'd love it if you left a comment to let me know that all of this work was worth something. And if you REALLY enjoy it, I'd be eternally grateful if you share it with fellow pen turners or friends/family.
Proceed to Step 1: Preparing Your Pen Blanks for the Lathe >>>