How to Prevent Ghosting and Cloudiness in a CA Finish
So you've spent a lot of time turning your pen perfectly, sanding it, and preparing it for your finish. You're going step-by-step on a CA finish and feel like everything is going fine. You sand with micromesh down to 12,000 and, wait, WHAT THE HELL?! What's this cloudiness/ghosting I'm seeing in my CA finish?!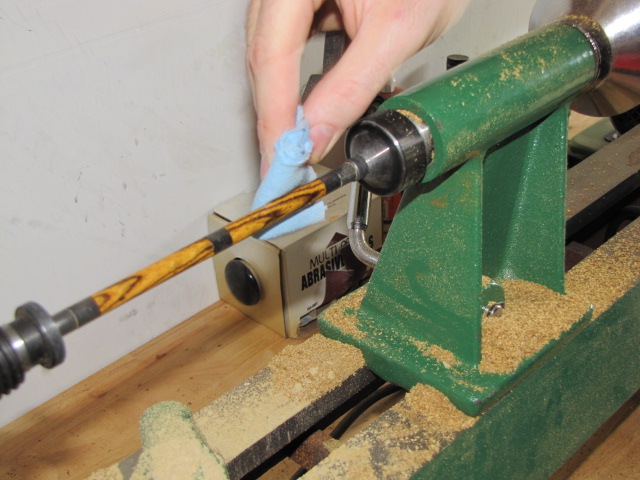 I've been there many-a-time, unfortunately, and each time it happened took everything in my being to not blow a gasket. Over the years I've picked up a few tips/tricks that will significantly decrease the odds of this ever happening again.
Make Sure You're Using the Right Paper Towels
I know it sounds simple, but this can really cause your CA finish to take a turn for the worst. Some people use Viva, others use blue shop towels, I've heard tall tales of guys using Bounty, etc… Brand names don't matter, here's what does.
Fold one of your paper towels up and drip 5-10 drops of thin CA on it, then wait a few seconds. If it begins to smoke (even just a little bit), don't EVER use those paper towels for your CA finish again, and make sure find a paper towel that passes this test.
Don't Use Too Much CA Activator/Accelerant
Spraying your CA finish too closely or too heavily with activator will cause it to bubble and go white, creating a nasty clouding/ghosting effect that you can't recover from without sanding it all off and starting over.
Make sure you hold the accelerant at least 6-8 inches away, and if you're still encountering this problem and working with an aerosol activator back up to about 12-14 inches. Spray a VERY light mist and let it spin out for a few seconds. If it looks like it needs a bit more, give it another very light misting, but be careful, this is one of the most common problems people encounter when applying CA finishes.
You don't HAVE to use activator with a CA finish either. You can find a thin CA glue that almost instantly cures like this one
 and completely cut this risky step out.
Avoid Moisture in Your Pen Blanks
Sometimes you can get moisture caught in the wood on your pen blanks that will cloud the CA finish over time. You may not see this one instantly when it comes off the lathe, but usually within 1-2 days after some cloudiness will start to appear and, again, a perfectly beautiful pen is ruined.
The obvious thing to do here is just let the blanks sit and dry out before you apply your CA finish if you're seeing this happen regularly. If the blanks get moist or you're using wood that you picked up or cut down yourself, it'll need some time to dry out before you can apply your finish.
Applying the Finish Too Slowly
Applying CA is a fast process, and if you're going too slow the fibers from the paper towel can get caught up in the CA glue causing them to be permanently embedded and clouding your finish.
Again, the solution is pretty simple – practice more and apply your CA finish faster and more smoothly.
Adding Another Layer Before Dry
If you start adding another layer of CA glue before the previous layer has cured completely, you can get small fibers from the paper towel stuck to the non-dry layer and permanently encase them with your new layers. Slow down, take your time, and don't let there be any chance that the previous layer hasn't cured before applying a new layer. You've spent too much time turning this pen and making it perfect to hastily apply more CA glue instead of waiting another 30-50 seconds.
Still Having Problems with Ghosting or Clouding in Your CA Finish?
Comment below and describe your problem. I'll do everything I can to help. Also, if you've found this piece of content helpful, please leave a comment below and say "thanks!". It really makes my day to know this stuff is helping people and not just fading silently into the internet 🙂